Pueblo Green Chile Recipe #1
or... A New Flavor of Heartburn
Ah, Pueblo style green chile. Pueblo, CO, my hometown is famous for their particular varietal of chile pepper; the Pueblo Green Chile a.k.a. Mira Sol. The chile tends to be larger than a jalapeño and smaller than a Anaheim. The thick flesh makes the chile perfect for roasting and its particular rich flavor is great for a chile stew.
By the way… way too much though went into the spelling of chili / chile. I've settled on chile for both the pepper the stew. Chili just doesn't work for me, it just makes me think of Chili's the restaurant! Ugh…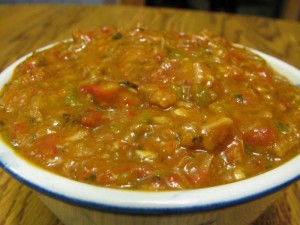 My family loves green chile and we make a version of it at least once a month. Tonight we planned for green chile smothered burritos and my sister Lisa suggested trying something new. This recipe is quite different from our standard. Tonight we minced rather than chopped both the onion and chile. The onion was almost puréed and we boiled/steamed and shredded the pork rather than cubing and frying. Also the usage of the dried spices was new. Normally we might use a bit of Spanish oregano and the pinch of chipotle but the coriander and cilantro were new additions.
The result was a chile much thicker and less gravy like than normal. The spices changed the character of the chile considerably; the flavor was very rich and complex though we felt that the flavor of the green chile peppers themselves were muted. To some extent we thought the chile tasted like a combination of our normal red and green chiles. Smothered over ground beef and bean burritos this chile was fantastic.

Pueblo Green Chile Variation #1
| | |
| --- | --- |
| 1 | pound pork stew meat (rough chopped fatty pork chop) |
| 1 1/2 | cups green chile peppers, minced (roasted and peeled |
| 1/2 | med onion, minced |
| 4 | cloves garlic, minced or pressed |
| 1 | 14.5 oz can diced tomato (fire roasted preferred) |
| 2 1/2 | cups low sodium chicken broth |
| 4 | tablespoons flour |
| 6 | tablespoons vegetable oil |
| 1 | tablespoon coriander powder |
| 1 | tablespoon red chile powder |
| 1 | tablespoon cilantro, dried |
| 1 | teaspoon cumin powder |
| 1/4 | teaspoon chipotle powder |
| 1 | teaspoon salt, plus extra to taste |
Instructions
Dredge pork in 2T flour and brown in 2T vegetable oil in pressure cooker over medium-high heat. Cook pork until browned ~3-5 mins, stirring occasionally, no not fully cook pork. Add chicken broth and increase heat to high. Scrape any browned bits from the bottom of the pot. Attach the lid to the pressure cooker and bring to pressure. Reduce heat to med-low and cook at pressure for 5 mins. Quick release pressure and set aside pork and broth in a medium bowl.
In now empty pressure cooker, over medium heat sauté onion in remaining 4 T oil until slightly translucent ~3 mins. Reduce heat to med-low and add the 4 T flour and slowly brown until flour-onion mixture loses its raw flour taste ~5 mins. Add garlic and cook until fragrant ~30 seconds. Add spices and roast for ~30 seconds. Add chile, tomato and 1/3 broth from pork, stir to mix and raise heat to medium. The green chile will thicken; add additional 1/3 broth and again let thicken. Finally add remaining 1/3 broth, cover pot and reduce heat to lowest, total thickening should take ~10 mins. Chile consistency can be adjusted by added additional chicken broth.
While chile thickens shred the stewed pork using either two forks or by smashing with a single fork. Add the shredded pork into the chile. Adjust salt to taste and let chile simmer for 30-60 mins; if longer it may be necessary to add additional chicken broth.