Vissani 52-Bottle Wine Cooler Review
or... How to beat the heat and keep the wine cool
Well the weather got to me and I had to do it… I had to get a wine fridge. I had earlier convinced myself that I wouldn't be storing much wine at home. After all, I live in Paso Robles, surrounded by wineries, wine bars and restaurants. I could get by with just a few bottles at home… Ha. Ha. Ha.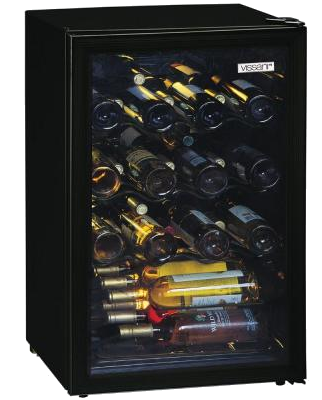 I quickly found that wine coolers are generally not cheap. I wanted to keep my investment in the wine, not in the cooler and after a long search I found what looks to be the best value in wine coolers available now. At Home Depot I bought the Vissani 52-bottle Wine Cooler. 52 bottles sounds good to me and on sale for $148 the price was right on! Here follows a mini-review of the cooler.
---
The Vissani 52-Bottle Wine Cooler (MVWC52B) is a very basic medium capacity wine cooler/refrigerator for the budget minded buyer. Home Depot sells this cooler at a regular price of $199; I bought it on sale for $148.
The official feature set, according to Home Depot:
Holds and cools up to 52 bottles of your favorite wines
Adjustable thermostat helps you select your desired temperature
Compressor delivers effective cooling
4 black sculpted shelves adjust to meet your unique needs
Interior light illuminates the cooler for your convenience
Amber glass door for visibility and an elegant look
I ended up returning the first unit I bought. The unit constantly ran and couldn't get the temperature below 70 degrees. The second unit I got worked fine. On both units, the doors were installed crooked but were easy to straighten out simply by loosening a couple of bolts.
I found the overall aesthetics of the cooler quite nice. The unit measures 20.6 x 32.5 x 22.6 inches. It does have a cheap feel to the metal but the tinted glass door provides an nice look once installed. The suggested 52 bottle capacity is a bit of a stretch. This number of bottles would fit only if all of the bottles are average Bordeaux-style/cylindrical-shaped. Burgundy/Rhone and Sparkling bottles fit well but prevent you from achieving maximum capacity. 35 bottles or so is a more realistic number.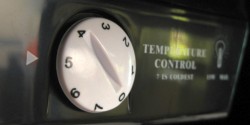 The cooler has a seven setting temperature control dial and lacks any sort of thermometer. I highly suggest buying a separate thermometer like this one to determine the internal temperature. You'll generally want to shoot for 55°F for red wines and 45-50°F for whites keeping in mind that the top shelves are a bit warmer than the bottom. I'm storing my reds on top at 55°F and find that the bottom shelf at 50°F is perfect for the whites. I'm not convinced that the cooler uses a real thermostat. I find that on hot days the internal temperature of the cooler runs a bit (~5°F) warmer. The cooler may use a simple duty-cycle system to regulate temperature.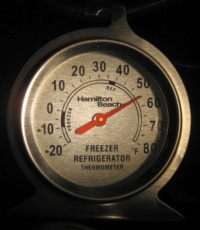 A traditional mini-fridge compressor is responsible for the cooling. This is not a low-vibration compressor, but vibration does not seem excessive. This may be an issue if you are considering using this cooler for long-term aging of fine wines. In my opinion, this level of vibration should not be a concern for storage of five years or less.
The interior light which is installed on the ceiling of the unit is a wimpy 15W incandescent. With your shelves full, the light is only strong enough to be of use for the top shelf. I've considered installing stick-on battery powered lights in other locations but have yet to find an option that fits well.
Home Depot was unable to provide any sort of owner's manual or warranty card with the unit. In fact, it looks as if all of these coolers are "loose" without any box or information at all. Both Home Depots I visited had the coolers unpackaged on a shelf. I was able to negotiate a 10% discount on the cooler because there was no box or information. The sales manager suggested I download the owner's manual from the internet but a quick search turned up no information for the Vissani brand. A bit more digging revealed that Vissani is a secondary brand of Magic Chef which markets this same cooler under that label with the model number: MCWC52B. I called Magic Chef and confirmed that they would honor the warranty of the Vissani units through their support website. I also received a copy of the owner's manual which is available for download here: Vissani MCWC52B owner's manual.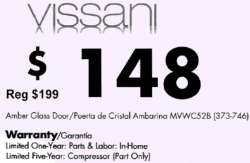 I should mention that upon installation it is necessary for the the cooler sit for 2-3 hours before being plugged. This is especially true if the unit traveled on its side or was tilted for some time. This waiting period allows the coolant to flow back into the compressor. I allowed the cooler to come down to temperature before loading any wine into it. I then added a few bottles at a time over the coarse of a day or so to prevent the compressor from running too long.
An advertisement taped to the front of the cooler I bought showed that the unit was covered under a Limited One-Year Parts & Labor In-Home warranty with a further Limited Five-Year Parts Only warranty on the compressor. This matches the warranty information in the owner's manual (see the last page).

Because this is such an inexpensive cooler and the fact that my first unit was DOA, I have a feeling that the warranty may come in handy. In fact, I opted to purchase an extended two-year replacement warranty from Home Depot. Because the sale price was under $150, the replacement warranty was only $17.95; regularly $24.95. I consider this a great deal as it guarantees three years of operation from this unit.
In conclusion I'm very happy with the Vissani MVWC52B 52-bottle cooler. The only significant downsides are that it is a touch noisy and shelving requires some creative stacking of the bottles. But overall, the price can't be beat and the warranty provides peace of mind. In fact, if I see these coolers on sale again, I may just buy a second!