Hyper-Decanting Wine in a Blender
or… Wine Frappé—the Next Big Trend?
Yesterday I read a very interesting article: How to Decant Wine with a Blender by Nathan Myhrvold. This caught my attention for three reasons: 1) It's about wine. 2) In a blender, seriously? 3) It was written by Nathan Myhrvold.
Nathan Myhrvold is a fascinating fellow – I've been following his work for sometime now but especially after he wrote a 2400 page, $500 cookbook on food and science called Modernist Cooking: The Art and Science of Cooking. It is a beautiful book and I highly recommend that you check it out (here's a TED Talk video on the book).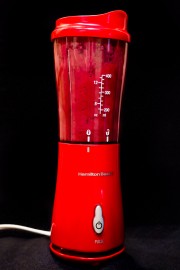 Anyway, back to the article.
​Wine lovers have known for centuries that decanting wine before serving it often improves its flavor …the traditional decanter is a rather pathetic tool to accomplish it.
In the article, Mr. Myhrvold suggests that a kitchen blender is highly effective at aerating wine. He says "…it almost invariably improves red wines—particularly younger ones, but even a 1982 Château Margaux". Though no Château Margaux was handy I decided to give it a go anyway; after all, I'm no wine snob, if a blender improves the wine then I'll happily blend away!
I didn't have a blender but I found this handy-dandy little guy on Amazon for $15. It holds 14oz, just nice for a wine aerator. (Being the instant gratification kind of guy I am, I ended up buying it at Wal-Mart on sale for $9. Shhh!). So I turned on the camera, popped the cork on a bottle of a Paso Robles' 2007 Stanger Bench Cuvee and blended away.
The result of this little experiment was pretty surprising. The hyper-decanted wine was clearly very different and that difference was mostly structural. The wine felt different on the pallet, specifically weightier and softer–you might say lusher. The wine's tannins were unaffected and the flavor profile didn't show real improvement. Overall I was pleased with the result and will experiment some more with this. And if anyone out there has an extra bottle or two of Château Margaux—in the name of science I would be happy to put it to the blend test.
Give this a try and let us know in the comments. I think wine is heartier than we give it credit for. Perhaps Frappéd wine is the next big wine geek trend?