Paisano Friends and a Carlo Rossi Jug
or... A few surprises in a cheap wine
Ah, my Paisano friends of Paso Robles! Let us raise a glass, tell a story and be merry! Pass me the jug and let me refill thy glass as we carouse and dance – stomp the floor and philosophize.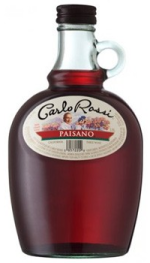 This is a story of a simple wine – Carlo Rossi Paisano Red Wine. Now, many of you out there surely have memories of Carlo Rossi wines, good and ill. These ubiquitous jugs are responsible for many an introduction to wine. High‑schoolers have been known to liberate a jug or two from either the parent's cupboard or a local drug store… These wines often flow freely at college parties – sometimes spiked with further cheap booze… But as for me, I somehow escaped all of this. My introduction to Carlo Rossi wine came yesterday.
Now these wines haven't gone completely unnoticed by me. Why, of course I've seen them on the shelves of many a grocery store. I've read how Monsieur Rossi's Hearty Burgundy and Chablis retained their French names through grandfather laws. I've even watched Gary Vaynerchuk taste test one (see the end). But again, I've never been inclined to indulge my curiosity until yesterday.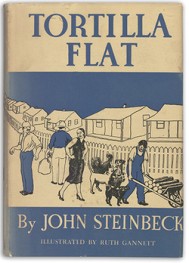 What finally got me was the discovery of the "Paisano" wine. You see, I'm a big fan of John Steinbeck – for those of you who might not know, his famous novel Tortilla Flat centers around a jolly group of Paisano friends. These Paisanos (peasants of Spanish/Italian heritage) live simple lives but look forward to nothing more than a jug or two of wine to share among friends.
As for me, I didn't procure my wine at Torelli's but rather from the local warehouse grocer. I found the price of $4.98 for a generous 1.5L jug to be quite reasonable, though our friends seemed to do even better at a dollar per gallon. I didn't notice any shelf-talkers or Parker scores to guide me so I admit that my purchase was based solely off of the label and my fondness for the Paisano friends.
I decided against decanting the wine. You see, this is a non-vintage bottling and without knowing its age it's hard to determine if the wine might be too delicate for aeration! This also seems to be a proprietary blend as there are no grape varietals listed on the label. Though the label does assure us that it is a "100% Grape Wine". So again, to play it safe, I chose an all-purpose red wine glass; the purist may want to stick with any old Mason jar.
The nose of the wine was deep and fragrant filling the glass with the scent of fresh strawberries in that way that strawberry Jello smells before it fully sets. The word Grenache immediately jumped into my mind and I'd bet a dollar to doughnuts that my favorite Rhone red is part of this blend. Also a flash of a 30‑year old memory surfaced – a time when I gulped down what looked like Kool‑Aid in my Mother's glass.
In the mouth, the wine is fruity and surprisingly light. The 11.5% alcohol gives the wine almost the weight of grape juice but with a decidedly winey flavor. The wine reminds me of Sangria – off dry, with pronounced upfront red fruit and a generic plumminess. The finish is short and sweet (literally). The flavor profile is quite agreeable though the sweetness makes enjoying the first glass a bit of a chore. Perhaps the Carlo Rossi Hearty Burgundy is a bit more restrained?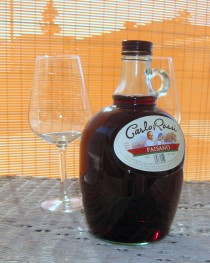 As for disclosure, I should say that this session was clearly not done as a blind tasting. However, after finishing the jug my vision was quite impaired for a good 2-3 hours. Be aware, that this wine is a headache in a jug. But since it is most likely to be consumed along with large quantities of other alcohols, the headache is pretty much inevitable anyway, isn't it?
Kidding aside, I certainly see the appeal of Carlo Rossi Paisano wine. It is tasty and cheap and packaged very handsomely. But more importantly it speaks of what wine used to taste like, perhaps should taste like. For millennia, wine was simple, fruity and likely sweet. It is true to the terroir of those expansive flat vineyards baking in California sun. It is true too to the humble nature and generosity of the Paisano's who used to drink it. To all of you reading this that are serious about wine – do yourself a favor, drop a fiver and buy yourself a jug. Sit on the porch with some friends and raise a glass to what wine once was and what it once meant.
---
As an aside, I did actually have some excess wine leftover, go figure. Since I was making pan-grilled chicken breast for dinner, I tried out the Carlo Rossi in a reduction sauce. The result was surprisingly good so I thought I would share the preparation. Another tip for left-over wine is to freeze it in ice-cube trays. Store the cubes in a zip-bag and you have ready-to-go cooking wine. (Also you can put toothpicks in each cube and make little Popsicles – the kids will love them!)
This basic recipe works as a simple pan-sauce with or without wine for nearly any type of pan-grilled meat. For beef I like to season the sauce with thyme or rosemary. With chicken or fish, white wine and tarragon or thyme is great. With pork, either red or white wine can be used and nearly any herb.
A lighter version of the sauce can be prepared with no butter, instead adding small amounts of cornstarch (mixed first with cold water) to thicken the sauce. For this lighter version, it is not necessary to reduce the sauce as much in step two.
Red Wine Reduction Pan-Sauce
Makes about 1/2 Cup – Enough for 2
Ingredients
| | |
| --- | --- |
| | olive oil as necessary |
| 1 | small shallot (or white onion) diced fine |
| 1/2 | cup Carlo Rossi Paisano Red Wine (or any 100% Grape Wine) |
| 1/2 | cup low-sodium chicken broth |
| 1 | teaspoon whole grain mustard |
| 1 | tablespoon minced fresh thyme (or other herb) |
| 2 | tablespoons very cold unsalted butter |
| | salt and pepper as necessary |
Instructions
Loosely tent cooked meat on a plate with aluminum foil. In the same pan used to cook the meat, add olive oil to remaining fat in the pan to an equivalent of 1 tablespoon. Over medium heat, saute shallots until soft, ~2 mins. Add wine and scrape the browned fond from the bottom of the pan. Reduce until just becoming thick, adjusting heat as necessary to maintain a low simmer, ~3-5 mins.
Add chicken broth, mustard and herbs and continue to simmer until slightly thick, able to coat a spoon, ~5 mins. Off heat, add cold butter small piece by piece and stir to mix. Sauce should take on a velvety consistency with more butter giving better results. Add salt and pepper to taste.