Understanding Syrah — Paso Robles
or... Paso Robles Syrah 101
I've never been sure if I actually like Syrah. I'm a Rhone guy so I really should like Syrah, in fact… I should love it. The confusion surrounding Syrah has plagued me and here I intend to correct the situation.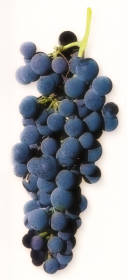 Syrah is a misunderstood wine, its ubiquity and range of styles (and names) have left plenty confused. Often, a set of identifying characteristics make a wine easily recognizable and provides a foundation on which to understand the varietal. For Syrah, big dark fruit flavors and often vague spice make up its foundation. It's common to read of leather, tar, olive, violet, espresso and black pepper in reviews of Syrah with a structure described as masculine: big and bold, rich and strong – brooding even. The trouble is, for most Syrah, nothing more is seen in the glass beyond that big, bold dark fruit.
My difficulty with Syrah stems from the grape's high potential but lack of consistent delivery. My first sips of wine were of Australian Shiraz and plenty of value Shiraz crossed my lips while living in Malaysia. I've drunk plenty of California's Syrah over the years, mostly widely distributed and popular labels. Together, these experiences left Syrah planted squarely in my mind next to Coca‑Cola – big and delicious but uninteresting. My palate generally leans toward savory and complex wines – so much of what I'm told suggests that Syrah should fit the bill.
Clearly I have not been drinking the right Syrahs. I decided to begin a set of lessons on Syrah to develop an understanding of the grape. In this first lesson I set out to taste the Syrah's of Paso Robles. Tasting room after tasting room with only Syrah in mind, I sipped and spat. Ultimately I tasted just over 45 wines from the west and east sides of Paso and found remarkable diversity. Brian Benson's wines showed off big muscles and big oak whereas John Munch of Le Cuvier always delivers purity in his wine and the Syrah was no exception. Elsewhere I found some leathery notes and plenty of minerality; I found some smoke and cherry and hallelujah both black and white pepper. I even found one Syrah blessed with much more than just a touch of Brett.
I was surprised too by the texture of many of the wines I tried. Most wines managed restraint, alcohol generally felt in check and though predominately full-bodied, the wines were rarely over the top and never jammy. The acid structure of the west-side wines was particularly surprising; I was not expecting such mouthwateringly juicy red wines complete with full fruit and balanced tannins. Venteux's wines epitomized the lively backbone to the point of almost being tart.
But still most of these wines didn't transcend the sum of their parts if you will. Few wines stopped me in my tracks and blew me over with complexity. The 2008 Halter Ranch Syrah by far had the most going on but alas, it had been spiced with Malbec, Mourvedre and Viognier! I did love the beguiling white pepper nose that came to me with Derby's beautifully clean 2006 Syrah. Barrel 27's wines were very interesting, offering a lot to think about and especially good values. Yet, aside from those Syrahs micro-blended with other varietals, I didn't find much in the way complex layering of flavor and bouquet – there were a lot of one note wonders.
24 Hours with Six Syrahs
In an attempt to map out a spectrum of Paso Robles Syrah, I chose six wines that I felt exemplify particular characteristics of the varietal. I would live with these wines for a full day to study them and watch them while they developed.
Immediately obvious when tasting through the selected wines were how different they were compared with the tasting room samples. The beautiful black pepper that I had originally found in Alta Colina's 2008 Toasted Slope Syrah was not heard from again. Similarly, the whiffs of white pepper seen in Bianchi's tasting room sample of their 2006 Syrah were replaced by savory scents of melted butter and sweet butterscotch. I attribute these differences to the wines being quite young and to most of the tasting room bottles having been open for some time. I believe that as wines breath significantly, the resulting reactions can produce unpredictable flavors; white pepper today, butterscotch tomorrow. Of course a whole host of variables may be at play here.
After an hour of decanting, the wines were mostly quite closed still with little primary fruit characteristic yet showing. I saw some development in the wines after four hours, but the next day after 24 hours+ the wines were showing beautifully. In no case was there yet a hint of oxidation suggesting that these wines can cellar for at least a few years; indeed the wines seemed to integrate and develop in the time open.
Overall I found the west-side wines to be superior to the east-side in both structure and elegance. However, in terms of pure flavor and fruit, the warmer east‑side held its own.
2007 Edward Sellers Sélectionnée Syrah
| | |
| --- | --- |
| Vineyards: | West-Side – Edward Sellers |
Production:

600

Price:

$37
The Sélectionnée opened up quite nicely after just an hour of air and surprisingly tightened up again after being open for several hours more. The wine showed a nose of beautiful feminine floral loganberry with nicely integrated oak and a racy structure well balanced with soft tannins. The nose of the wine closed down completely after four hours but remained delicious in the mouth for well over a full day. This is a perfect example of a west-side Paso Robles Syrah with forward but non-jammy fruit and a spot on juicy structure.
2006 Bianchi Syrah
| | |
| --- | --- |
| Vineyards: | East-Side – Sunrise Ranch, Creekside Ranch |
Production:

N/A

Price:

$18
I had hoped to find strong white pepper in this bottle as I had in the tasting room but instead the wine was overwhelmed with melted popcorn butter and oak. There were flirtations with black and white pepper but they were fleeting. The dark cherry fruit was quite candied on the nose and suggested of Smarties; this sweetness at times gave the butter a carameled butterscotch character. The wine's structure was pleasant and soft but clearly less developed from the west-side wines. After a full day of aeration a very savory green olive character was obvious as the fruit diminished. Though a bit rough around the edges the wine was very enjoyable.
2007 Tobin James Rock-n-Roll Syrah
Production:

N/A

Price:

$18
Smoke and bacon were wafting out of the glass in the tasting room yet upon opening my bottle I found a muted combination of subtle dark fruits and indistinct spice. Very soft smoke developed after some hours as the overt oak seemed to calm. The fruit developed a grapey sweetness through a very soft but all together ok structure. The next day finally the smoke and Sunday morning bacon were present with the fruit showing very ripe and tart. Overall I felt the Rock-n-Roll to be disjoint, every sip showing differently but never coming together.
2008 Tablas Creek Syrah
| | |
| --- | --- |
| Vineyards: | Wast-Side – Tablas Creek |
Production:

476 cases

Price:

$32
The epitome of elegance, the wine gave up a perfect soft and contemplative structure balanced with layered red and dark bramble berries. Unfortunately the nose remained mostly closed for the entire tasting, yet, in the mouth the flavors remained solid and complex the full time. The fruit was clearly more restrained than any other wine with a leather, chocolate and a mineral edge to the finish. With the least alcohol of any at 14.5% there was never any heat noticed throughout the tasting. This is a lovely wine that remarkably held together through 48 hours of being open – there is no doubt that this wine might enjoy a long rest in the cellar.
2006 Castoro Cellars Reserve Syrah
| | |
| --- | --- |
| Vineyards: | East-Side and West-Side |
Production:

1791 cases

Price:

$20
The east-side and west-side fruit in this wine couldn't make up their mind on what to do starting out as overripe blackberry and savory cumin with weak acid and bitter tannins. A dominate black pepper character was showing after several hours but the next day fell apart into very tart artificial fruit flavors strongly reminiscent of a tin of Bluebird grapefruit juice. Oxygen was clearly playing games with this wine but even from the start it was unfortunately disjoint. There is a chance the bottle was flawed but none of the obvious tells were noticed at any time. I should note that I have a long history with Castoro's wines and this is a poor representation.
2008 Alta Colina Toasted Slope Syrah
| | |
| --- | --- |
| Varietals: | 92% Syrah, 3% Viognier, 3% Mourvedre, 2% Grenache |
| | |
| --- | --- |
| Vineyards: | West-Side – Alta Colina |
Production:

125 cases

Price:

$38
The Toasted Slope never did live up to the hope of black pepper suggested at the tasting room with only the subtlest hints in the finish. But, it was perhaps the most fascinating of the wines to watch develop. The wine started out big with full clear black fruit weighing heavy in the mouth. Its soft oak was very well integrated with the pleasing acid and tannin. The heat of the wine however was overbearing, burning the nose and leaving the tongue tingling through the finish. Amazingly and wonderfully the alcohol calmed after a day, opening the nose beautifully with layers of cherry, raspberry, blackberry and a faint savory bouquet garni. The wine is very young and I suspect requires years of rest to calm its brawn and heat. Ultimately this wine is the quintessence of the powerhouse Syrah with great aging potential.
Too Warm?
Syrah is known to be versatile, doing generally well in both warm and cool climates. In Paso Robles the relatively flat and open spaces of the east-side tend to be warmer than the west with its rolling hills and very cool nights. Those warm days and cool nights tend to give the west-side fruit especially lively acids which allow winemakers tremendous freedom to choose the ripeness level at which to pick (acid usually diminishes significantly when the grapes become very ripe).
However, even the most restrained of the wines I tried struggled to produce the secondary flavors commonly associated with Syrah. I've started to develop the opinion that Paso Robles is borderline too warm for complex Syrah. Randall Grahm of Bonny Doon Vineyard, a cool climate Syrah believer, suggests "If you want it [Syrah] to actually have character, it needs to be grown in a very cool climate".1 It is even suggested that Syrah loses its varietal character when even slightly overripe, leading me to suspect that Paso Robles Syrah may often flirt with this overripeness.2 In Syrah's homeland of the Rhône Valley, the grape is believed to produce at its best as a varietal wine in the cooler north whereas in the warmer south it tends to be blended with other varietals. Denner's winemaker Anthony Yount seems to agree that Paso's Syrah shouldn't be compared with those of the cooler climates: "There's a lot of Syrah here [in Paso Robles], and we can make slutty Syrah — it's ripe, people like it. But when you compare the Syrah we can do here to the Syrah in the northern Rhone, it's not the same".3
My true love might always be the red Rhone style blends uniting Syrah with Grenache and Mourvedre. There is no doubt that these Southern Rhone varietals complement each other perfectly and Paso Robles can rival any in the world with her blends. As for varietal Syrah, I confidently feel that I've gained an understanding of the grape, at least within the boundaries of Paso Robles. I've see the purity in flavor that can be produced and the elegance in structure possible. Syrah certainly deserves to be understood as it can deliver both contemplation and visceral pleasure.
I shall in a future blog post look outside of Paso Robles for Syrah grown in cooler climates. In particular I would like to try wines from Santa Barbara County, Sonoma Coast, Petaluma Gap, possibly New Zealand, and of course the Northern Rhône. I would love further suggestions and ideas; be sure to leave a comment below.