Malaysia Gave Me My Wine Palate
or... How I discovered the barnyards of France
I drank a lot of bad wine in Malaysia. For four years I consistently sought out mediocre wine. Mediocre wine mind you is a good thing in Malaysia, after all, at least it's not bad wine!
2008 Anakena Carmenere Rapel Valley

"Muted, raspberry, not much else on the nose. A mouthfeel of astringent bitter tannin hiding any fruit. Cannot drink."

Let me explain. It is hard to buy, or rather expensive to buy, good wine in Malaysia. Malaysia has significant sin-taxes imposed on the imports of alcohol. This along with other import/distribution inefficiencies (cases often go missing when held by customs…) often result in a 200% (3X) or greater markup over U.S. retail wine prices. At restaurants and wine bars, expect another doubling. The tropical climate takes its toll on the wines as well. Pallets of wines sitting on the docks waiting to be warehoused is one problem but even worse are the retail conditions. Many if not all grocery stores turn off the air conditioning at night letting the wine sit at 85 degrees for 12 hours before being slowly cooled throughout the day. I felt that about half or so of wines I tried in Malaysia were cooked to some degree. I can't tell you the pain I felt paying such extraordinary sums for such average wines only to find them ruined by heat. So, I learned to seek out the best of the mediocre.
2007 Chateau Pouypardin Montee du Pouypardin Vin de Pays du Gers

"A bit of stinky barnyard, earth and soil on the nose – some leather, quiet fruit. Nice weight, reasonable tannin, mild acid. Structure a bit weak overall. Solid finish, great earth driven wine."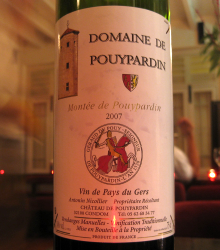 The wine shops and supermarkets in Malaysia offer a plethora of wines from all major wine regions of the world, sans the United States. Australia and New Zealand are well represented, due no doubt to proximity; but even South America, South Africa and Europe all have wines widely available. At the low end of the market it is hard to find interesting and contemplative wines. Sure enough, nearly all of the "value" new world wines were simplistic, mass produced and terribly boring. My palate was well beyond these Coca Cola wines. But what surprised me, altered my palate and change my life were the "rustic" and cheap European wines.
2008 Plaimont Corolle Côtes du Condomois Vin De Pays

"Almost Beaujolais in style – Light floral nose of ripe red berries, very nice. Great mouthfeel, light and pleasant, a wonderful find."
I did find a few Australian wines that interested me. These turned out to be mostly Rhone varietals, especially Grenache and Mourvedre. I first came across GSM styled blends in Malaysia with Australian wines such as the 2005 Langmeil Three Gardens SGM Barrosa Valley. Though fruit forward, these blends offered a complexity I'd not previously encountered. Little did I know then that I would one day become a card carrying Rhone Ranger Sidekick living in Paso Robles, CA.
2005 Torbreck GSM Old Vines Barrosa Valley

"Great lush fruit driven nose, typical fragrant Grenache with deeper groundedness. Lush, full in the mouth. Good weight, vanilla, long sweet finish. Super easy to drink – almost a GSM version of Yellow Tail but better structured and much more interesting."
I was saved from the woes of terrible wine by a wine bar: That Little Wine Bar. Out of nowhere, on the island of Penang, That Little Wine Bar opened its doors and brought the wines of Southern France to Malaysia.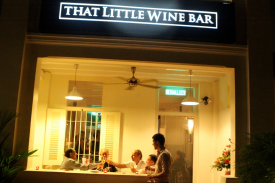 The owners who had spent a good amount of time in the Gascony region of France set about importing the wine of their friends. Bypassing the importers and distribution companies (and their markups) was both a way to differentiate themselves and more importantly, offer their customers the best value. The wines that were brought in were from areas I had never heard of: Côtes de Gascogne, Saint Mont, Madiran, even Austria. The varietals too were new to me: Tannat, Pinenc, Colombard, Ugni Blanc, Listan, St. Laurent, Blaufränkisch, Zweigelt…
2008 George Presinger Grauburgunder (Pinot Gris) Heideboden

"Lovely simple pear with a touch of white pepper and a sea minerality on the nose. Tropical Longan fruit, great structure, juicy acidity, refreshing tingling finish.
As I mentioned, the wines were "rustic" to be sure but well beyond what I thought was possible. I had always looked at the spectrum of wine character as fruit forward to mineral/earthy. These new wines that I tried opened up a whole new world. They pushed the earthiness end of the spectrum into peaty, barnyard, and mushroom. The complexity that could be found at this far end of the spectrum astounded me. I had few words and little vocabulary to describe these wines. Most importantly – I loved them.
2006 Chateau Pouypardin Podio Pardino Condom

"First wine at That Little Wine Bar – Very bizarre wine. Immediate strong vinegar on the early nose. Goes away with short time open. Very intriguing, mellow but interesting. Earthy barnyard, wet soil, some wet ashtray. The mouth is exceptionally dry but great weight. Full mouthfeel, mineral, vegital. Clean finish. A little cherry on the tip of the tongue at the finish. What is this?"
I had started to really understand my palate; complexity, understatement, earthiness and even a touch of the barnyard pleased me. Finally I was finding myself through experimentation, not through recommendation. It was my discovery. Malaysia was an experience of a lifetime. Going in, I knew a trip like this would change my life. But I never expected Malaysia to help me find my palate.