Why Paso Robles?
or... The Most Passionate City in America
Why Paso Robles? Being new to the area, this is a question I've often been asked; behind perhaps Where are you from? – What do you do? – small talk, chit chat. But I like the question Why Paso Robles? I have a good answer.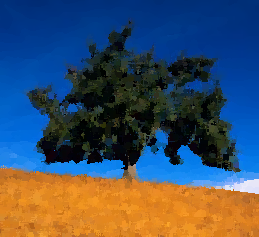 I love wine. I'm passionate about wine, especially the Rhone varietals. But also Cabs and Zins and even the often disappointing Pinots. Youthful and sexy, funky and mature, I enjoy them all. Paso Robles and her wines symbolize my passions in each bottle. The wines represent what I seek in life. Her diversity of varietal and style; old guard and up-and-comers give Paso Robles depth like no other American wine region. Paso Robles offers endless discovery of intellectual and complex wines. Yet, there is never a shortage here of hedonism – pure joy – to be found in a bottle. And the best part of the Paso story? It is just getting started; Paso is a growth story, gaining recognition and attention – 100 point scores and lots of press. Paso Robles is exciting, the place to be for those who love wine.
My early flirtations with wine started back in Fort Collins, CO at Outback Steakhouse with five friends and a Blooming Onion. Dean, I remember clearly the night, ordered wine, Black Opal Shiraz. Surprisingly not awful I thought, certainly, not with a New York Strip and fried love. A nice introduction to wine; though even with this Aussie flirtation my destiny was Paso Robles. I used to visit my sister in Atastcadero as often as possible where she taught me the ways of the foodie. Though not into wine herself, I was in luck, her neighbor Mikel Olsten of Castoro Cellars is a foodie and a wine lover. I remember flashes of a dinner we all had together at Thai-Rrific in Atascadero. Mikel brought along a Castoro Muscat Canelli – exotic to my ears. The memory of the wine is clear; amazing fragrant nose, tropical and gorgeous – and with Thai food! This Colorado boy was falling in love. Visiting Mikel's home exposed me to my first real cellar. Controlled for temperature and humidity, hundreds of bottles, fantastic – I was speechless. Wine geekdom was clearly in my future, there was no doubt.
Sometime around 2001 I had my first real tour of the Paso Robles wineries… Justin, Meridian, Turley, and of course Castoro. Big Zinfandels and Cab Sauv were in at the time. The bigger, the more extracted, the oakier the better – manly wine. I went home with a case of Meridian and a membership to Castoro's wine club. I've held onto a couple of the Merdians, a '99 Merlot and the '98 Dusi Zin, you know, just because they were my first. These bottles are unlikely to have held up but they bring a smile to my face when I see them. Isn't that what holding on to wine is really about? I've held on too to the Castoro membership. Though my palate has shifted primarily to the Rhones, my little collection of Castoro wines still provides comfort and serves as baseline for my palate. I've spent much of the last 10 years traveling. Upon returning home from weeks or months away, a little comfort in a familiar wine is just what you seek.

The people involved in Paso Robles wine are passionate. The winemakers, proprietors, growers, marketers, tasting room attendants, salesmen of corks and capsules! You can see it in their eyes when they talk about Paso Robles. People rhapsodize about the festivals and music in the park. Pride, like a new mother's, bursts forth from winemakers upon release of a new vintage. It is a small community here, or better said perhaps, a large family. The family breaths together the intoxicating culture of wine – their shared passion uniting them. Look no further than the barstools of Villa Creek and the winery barbecues. The camaraderie and pride of the Paso Robles family is evident everywhere. San Luis Obispo may be the happiest town in America, but someone please inform Oprah that Paso Robles, CA is certainly the most passionate. I seek to surround myself with the passionate because it is infectious. To be passionate is to be excited about life – without it is to simply exist.
When the time came to unlock golden handcuffs and walk away from the cubical, where else would I go? When the time came to truly follow my passions, was there really any decision to be made? Paso Robles was waiting all along.